FORHAIR Korea is the leading hair restoration medical center in the world. Over 30 years of accumulating knowledge and technique in hair transplant, we offer unequaled service and satisfying results. We have achieved accomplishments in the field and guarantee that you'd meet the most experienced medical team and top quality FUE specialist (ISHRS doctor).
- Global award winning FUE specialized clinic
- Only 1 surgery a day
- Natural appearance by 100% manual technique
- Maximal survival + Low follicle damage
- No linear scarring
- Quick Recovery and less painful recovery
- No post-op care needed
- Surgery Warranty
COLES ISOLATION TECHNIQUE (CIT®)
FORHAIR is a renowned hair restoration in Korea specialized CIT® FUE ONLY. Our minimally invasive surgery was developed by Dr. John P.Cole. The CIT® essentially is a technique of FUE where all the surgery process is performed manually through its refinement and the specialty instruments from punching, collection, and implantation. What makes it so SUPERIOR is the number of hairs per graft and the extremely low transaction rate.
IMPLANTATION_SLIT 100% manual technique
SLIT method makes small incisions manually for the implantation pores prior to implanting the grafts, unlike the 'implanter pen/DHI' method which makes the incision and placing the grafts simultaneously. SLIT method makes sure that each collected graft has a customized SLIT hole to be perfectly fit in (snug fit). Only highly experienced surgeons can perform this technique: calculating the direction of hair growth, thickness, optimal depth of hairs, and individual's scalp type for better density and natural appearance.
ADVANCED FUE_3 types
Unlike traditional hair transplant, FUE hair transplant does not require any incision also with FORHAIR's advanced technique, it can be done without any shaving or partial shaving of the donor area. We have achieved and developed techniques where we can remove donor hairs one by one without shaving.
ALL-INCLUSIVE PACKAGE_except flight tickets
To make the experiences of our international patients positive and as hassle-free as possible, we provide translation services and accommodation reservation services to our international patients. We also provide a fully personalized and individualized treatment plan and surgery by strictly performing surgery on one patient per day.
REWARDS
2020 Ranked 1st in the Hair Restoration Division of the Korean Consumer Satisfaction Index
2019 Ranked 1st in the Hair Restoration Division of the Korean Consumer Satisfaction Index
2019 Received Grand Prize in National Customer-Driven Brand Award
2018 Ranked 1st in the Hair Restoration Division of the Korean Consumer Satisfaction Index
2017 Ranked 1st in the Hair Restoration Division of the Korean Consumer Satisfaction Index
2016 Received Grand Prize in the Hair Restoration Division in the '9th Korean Global Medical Service Awards' by Medical Asia
2016 Received Minister of Health and Welfare Award in KHMA (the Korean Health & Medical Award)
2014 Received Grand Prize in the Korean Health & Medical Awards
2012 Ranked 1st in the Hair Restoration Division of the Korean Consumer Satisfaction Index
2012 Received Grand Prize in Hair Restoration Division as the most trusted brand by customers
2012 Officially designated hospital by the Korean Model Association
Contact FORHAIR Hair Transplant Korea, get a free quote
Reviews
I was always concerned about my wide forehead since my childhood years. I was introduced to Forhair clinic by a friend of mine who already had her surgery few months prior. I did some research and decided to have my surgery at the clinic after reading that the clinic is recommended by other surgeons. My whole experience at Forhair was amazing starting with the consultations. The consulting manager explained even the smallest details and Dr. Ryu was very friendly and professional during consultation and my surgery. I had CIT(Box-Cut) surgery to lower my hairline. I was able to disguise the shaved area with my remaining hair so I was able to return to my normal life as usual after 2~3 days. The surgery started at 9AM and finished at 6PM. I was entertained throughout the surgery process with their TV system which allowed me to watch movies and past TV shows on demand. The Korean TV shows which did not have subtitles was a blow but nevertheless the experience wasn't as daunting as I thought it would be.

I had 2 surgeries over a year and a half period. Both went well with little discomfort, stress, or another issue. Honestly, one of the biggest issues for me was not being able to wash my hair for several days! Also, I had to sleep in one position for a few nights, but this recovery time passes quickly. I went from semi-serious balding in the front and crown to a pretty nice, full head of hair. The doctors and staff were great. Thanks for outstanding results! Overall, Forhair provided excellent service. They explained the process, answered my questions, and were there with me every step of the way. I would highly recommend them if you're considering this procedure. It's a difficult decision to make, but Forhair made it much easier. So far I am happy with my progress and I can't wait till all my transplanted hair grows and I have my complete hairline.

I am a 32 year old working male who had hair loss problem on the crown and the hairline. I had my consultation and surgery 7 months ago. When I was in my 20s, I never dreamed in a million years that I would have a problem with losing my hair! However, I started noticing the recession of my hairline in my mid 20s and by the time I reached 30 my crown was also thinning. I think my irregular life style with drinking, smoking and high stress level contributed to my hair loss and I decided to do something because I was getting more and more depressed. After doing a lot of research and visiting different clinics for consultations, I decided to have my surgery at FORHAIR. If someone was to ask me what 3 things in my life that I am most proud of, I can confidently say that one of them is finding the courage to visit and have my hair restoration surgery at FORHAIR. This is because my years of stress and agony were completely solved with this one investment. Hair loss sufferers don't be shy! I strongly recommend that you intervene and restore your hair to its former glory.

It is coming up to 11 months since my hair transplant surgery. Prior to having the surgery, I was under extreme stress with comments that I looked in the late 50s. (I'm in my early 40s.) I made my decision after continuously being disappointed with myself for not having the confidence to go out and enjoy life because I was dissatisfied with the way I looked. The cost was not a factor for me when deciding FORHAIR as I had confidence that I would be getting the best medical attention I could get in Korea. Korea's first American franchise clinic! 1:1 individualized surgery plan! Low graft damage rate / high engraftment rate! Were few of the factors that pulled me into FORHAIR. At my 11 months mark, I am seeing improvements day after day and I have shown greater than 90% engraftment rate. What I am most excited about is that people are now seeing me for my age and I have regained the confidence to go out and enjoy my life. For those of you that are considering hair transplant surgery at FORHAIR, I would like to advise you to go for it because it will be a decision that you will not regret!

I am in my 20s and I decided to go in for a consultation at FORHAIR after stressing about my wide forehead. It has been a year since I anxiously visited FORHAIR for my surgery and I am ecstatic with the results! Prior to choosing the clinic I did a lot of researching but I was put off by the FUSS method so chose FORHAIR's CIT surgery. I heard that the local anesthesia shots hurt the most so my heart was pumping when the surgeon went in for the jab! The anesthesia was administered from the back scalp to the front, but it didn't hurt as much as I expected. Lunch was provided and there was an entertainment system in the surgery room so I was entertained throughout my 7 hour long surgery. The entire procedure was very comfortable. Following surgery, accommodation was provided by the clinic so I was able to rest comfortably. The recipient area was itchy for 3~4 days after surgery but other than that I didn't experience any pain. Now 1 year after my surgery, I am extremely satisfied with the result and I would like to thank everyone at FORHAIR for being so helpful and kind.
Staff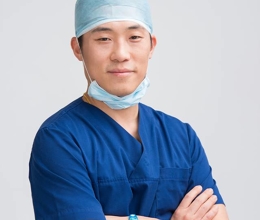 Dr. Kwon, Oh Sung
---