"I am committed to excellence, using only the latest technologies and scientific advancements in hair restoration to ensure outcomes that go beyond a patient's expectations." — Dr. Roberto Guerrero Zuzueta
Are you interested in hair transplantation in Puerto Vallarta, Mexico? At eláen Plastic Surgery Center, we provide a caring atmosphere that sets us apart from the rest of the world. Our artistic and compassionate team is ready to guide you every step of the way.
The Eláen Plastic Surgery Center in Mexico consists of passionate and experienced medical professionals, who are compassionate about helping you achieve your cosmetic goals and — always strive to meet each patient's needs.
Expert hair loss surgeon, Dr. Roberto Guerrero Zazueta, fuses the best of today's medical approaches to give you superior care and — a more confident you. He is board certified and one of the top surgeons in Mexico for hair loss and hair restoration.
True Specialist in Surgical Hair Replacement
What distinguishes eláen from other hair transplant clinics is the importance given not only to perform advanced procedures with the highest quality tools, but also the personalized post-surgical care of our patients. We offer full-time office locations in Puerto Vallarta and Guadalajara.
Dr. Roberto Guerrero Zazueta and Dr. Reynaldo Isaac Espinosa Chiu have helped hundreds of patients cope with hair loss and ultimately — restored their confidence.
Eláen Hair Transplant Center is the only hair restoration clinic in Mexico that gives a follow-up to patients one-year after hair loss surgery — either directly in the clinic or through video-conference. Our expert hair loss surgeons are committed to providing key answers to all of our patient needs, questions and concerns.
Top Hair Transplant Clinic in Mexico
Inside the modern Eláen Hair Transplant Clinic in Puerto Vallara, our team has changed the way patients and the medical community think about hair transplantation.
We have created methods, which stir the senses and soothe the soul. As a leader in the plastic surgery field, we focus on continual improvement. Our team is constantly developing, challenging and refining the strong surgical base we have created over the years.
Difference Between FUE and FUT Surgery
At Eláen, we offer FUE (Follicular Unit Extraction) hair transplant surgery. When properly performed there is no measurable difference in hair growth and naturalness. FUE provides a patient who wants to keep their hair very short in the back the peace-of-mind that no linear donor scar will be visible.
What is the difference between FUE and FUT (Follicular Unit Transplantation)? FUT hair loss surgery is a more time and volume efficient procedure that harvests more grafts, more efficiently in a single hair transplant session. When the donor is closed properly the linear scar is so thin that it is not visible unless the scalp is shaved.
Contact Elaen Hair Transplant Center Puerto Vallarta, get a free quote
Reviews
10/10. Dr Roberto and his team were amazing. True professionals, incredibly informative, very kind and go out of there way to go above and beyond to help you. The entire process was effortless. Honesty, there is nothing bad I can say from any standpoint. I would comeback in a heartbeat.

It was a two day FUE with 3500 grads. Dr. Roberto and his staff were at the utmost professional, educational, and helpful people I have ever experienced in a clinic or hospital. At no time did I feel like i didn't know what was going on. This was a clinic where you know you're going to come out with the outcome exceeding the expectations. Thanks

Great Experience. Dr. Roberto and the team was very professional. Dr. Roberto explained the procedure thoroughly during in-person consultation. He answered all questions I had.

Excellent experience, Dr Roberto Guerrero took really good care of me . Super happy with the results . No pain whatsoever, but a lot of itchiness after the surgery. My wife loves the new look and I can't wait to see my hair growth back. Will definitely recommend the clinic and Dr. Roberto for an awesome job. Thank you
Staff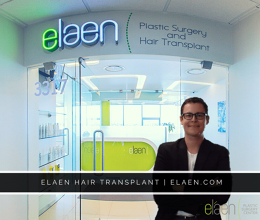 Dr. Roberto Guerrero Zuzueta
Hair Transplant Surgeon
---
Offering the most advanced hair transplant surgery treatment, Elaen hair transplant surgeon Dr. Roberto Guerrero Zuzueta is a board-certified who is globally recognized and trusted by men and women worldwide. He provides an in-depth, personalized approach to hair loss treatments — and aiming for natural, cost-effective hair transformations.