Hair Transplant Surgery Tunisia
It takes compassion, commitment and expertise to build a world-class hair transplant practice. Case in point: Dr. Hedi Belajouza is re-defining hair restoration treatment by offering artistic skills, state-of-the-art technology and a highly skilled professional team backing him up.
Each patient's hair transplant procedure in Tunisia is customized — based on general health, hair type, degree of hair loss and overall appearance goals.
Expert Hair Transplant Surgeon in Tunisia
Dr. Belajouza believes in the importance of establishing a trusting relationship with his patients to ensure successful and satisfactory results. He is recognized for his artistic brilliance, stunning natural results and minimally invasive hair transplant techniques. His hair transplant practice is based in Tunisia's liveliest and most breathtaking cities — Sousse.
What distinguishes Dr. Belajouza from the rest of elite hair transplant surgeons in Tunisia? His his full-involvement with patients throughout the entire hair restoration treatment. While many hair transplant doctors only take part in the donor harvesting and site creations, Dr. Belajouza employs his superior level of expertise in separation and placement of grafts during hair replacement procedure.
His dedicated practice is devoted to the art and science of hair transplantation. The entire staff is attentive, understanding and exceedingly sensitive to patients' needs and has extensively trained and continually participates in the latest developments in the field of cosmetic hair restoration. As a combined effort, the team and Dr. Belajouza have achieved many successful hair transplant procedures.
Contact Dr. Hedi Belajouza, get a free quote
Staff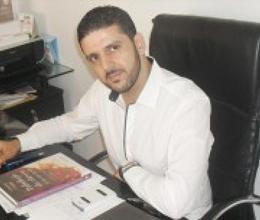 Dr. Hedi Belajouza
Hair Transplant Specialist
---
Dr. Belajouza is an accomplished hair transplant doctor exclusively dedicated to hair restoration and is one of Tunisia's renowned leaders in field of hair loss treatment. He takes pride in his artistry of creating natural hairlines and achieving fullness and helping his patients restore their confidence and a more youthful appearance.